Day 6: Ronta to Firenze
Ronta's elevation is almost 400 meters, so people were enjoying the prospect of a big net elevation loss. Today wasn't all downhill though; we had another ridge to get over, including a real climb of about 300 meters. But everyone liked the overall look of the elevation profile, and we all set out to do the whole ride.
The first descent was a blast, fast and fun. At the bottom we entered Borgo San Lorenzo, where we had to navigate some busy streets.
Then we were back in the hills on a low-traffic road, where today's hill began.
I went to crank out the climb, and felt a little sore from yesterday but overall pretty good. I'd started at the back of the pack because I was taking pictures, and I was pushing because I thought there was a group still ahead of me on the road, so I wound up working harder than I needed to. I tagged back from the top so I got to see the crew doing the climb.Most of them were doing fine, except Jamie who had a flat and walked the top portion.
There was (of course) a nice bar at the top where we regrouped for coffee and beer. (Hey, it was after 11:00!)
After that we had another fun descent into Fiezole, with beautiful views into the Tuscan hills, with villas and vineyards nearby and Florence in the distance. More than once I thought, "man, this is so beautiful…it's like we're in Tuscany or something!"
Fiezole was a nice town perched on the ridge above Firenze, with great views in all directions. It had an active street market where we got lunch and chocolate. A few of us walked up to the monastery for more views.
We still had 250 meters to drop down into Firenze, which we took more as a group because the road was busier. For me it wasn't as fun because I had to brake too much, but most of the folks enjoyed it.
At the bottom of the hill we were in Firenze proper, and it was quite hectic to navigate it with such a large group. There was a lot of unhelpful shouting of "car up, car back, car left, car right!" Yeah, I know. We're in a city, just keep an eye on your surroundings.
We found the hotel early enough for a walk around the town and some pre-gaming gelato.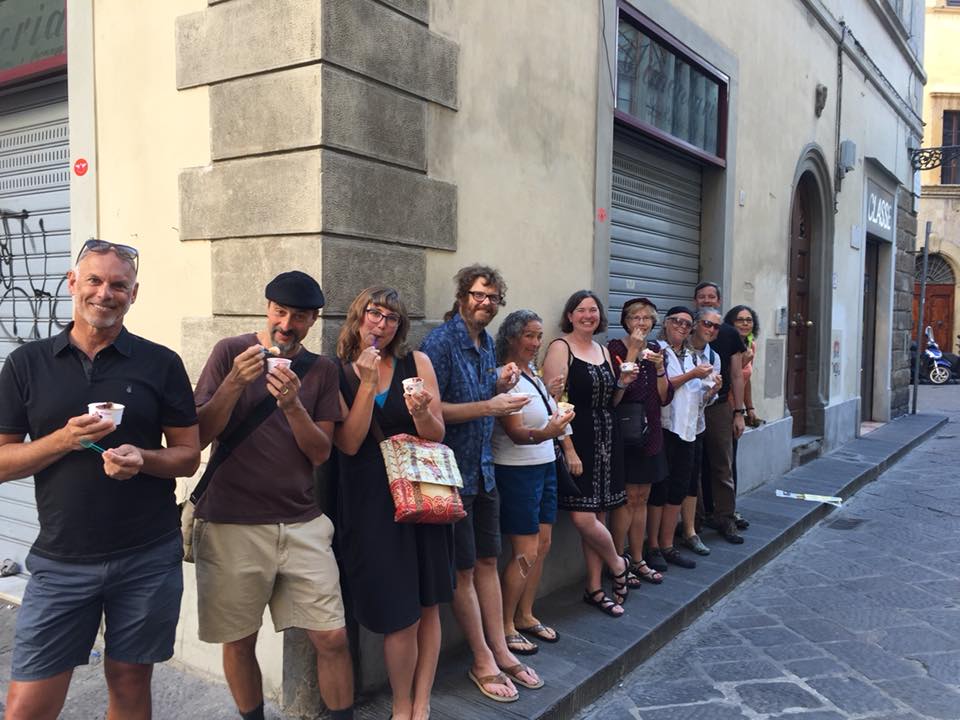 Unfortunately, Nancy stepped awkwardly on a pothole in the cobbles near Ponte Vecchio and sprained her ankle. She could still walk but wound up hobbled for a few days.
Fortunately dinner was just around the corner from the hotel, so we snarfed and headed back to bed.